We are paying homage to the antics of our favorite red-head and recalling some of our favorite episodes!!! Sit back, adjust the rabbit ears and . . . If you're just visiting my station today, don't get me wrong as I always love visitors but I wouldn't want you to miss a single episode and would want you to start at the beginning of our season with
Lynne
. I'm glad you came to visit cause that means the rabbit ears are adjusted correctly . . .
My favorite thing about Lucy, Ethel, Ricky & Fred, was that through thick and thin, they always remained the best of friends.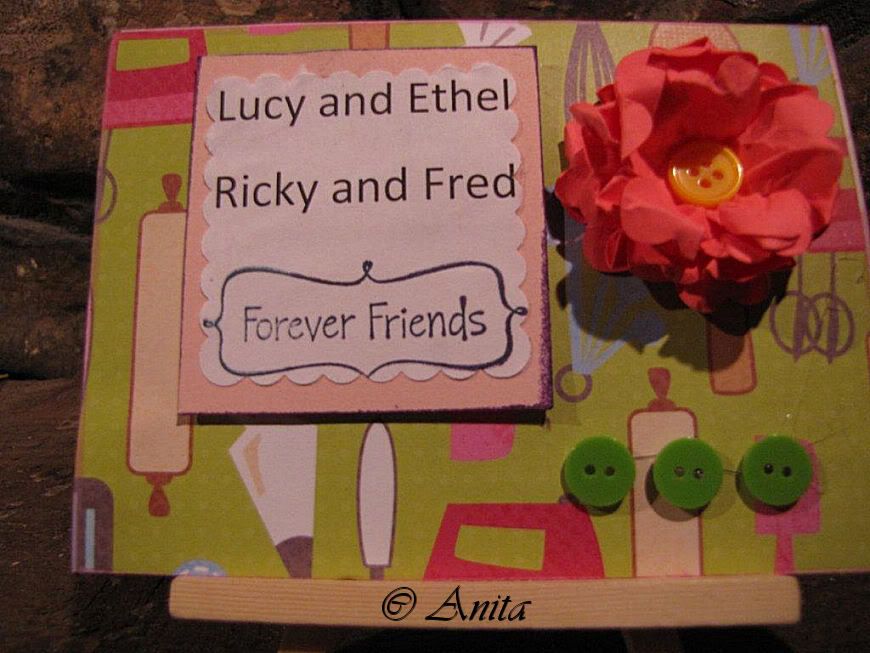 I love the soft mixture of colors in these papers and the handmade flower!
Your next episode is our lovely and very talented
Miss Lisa
to get Lucy off the ledge when she thought she would be Superman for Little Ricky or that time Lucy and Ethel bought the freezer and got locked in there or . . . OK, you get the idea......
Lynne
- http://slasewcraftiness.blogspot.com
Kimberly
~ http://scrappingrookie.blogspot.com
Anita
~ http://www.anitaandbugs.blogspot.com
Lisa
- http://handmadewithlove-lisa.blogspot.com/