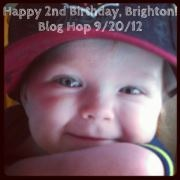 Welcome to a very special celebration for a very special little boy. Brighton is a sweet little boy who has had a rough start to his life. The doctors believe Brighton has a rare metabollic disease called mitochondrial disease. Mitochondrial disease is an energy depleting disease. You can read more about Mitochondrial disease at
http://www.umdf.org
or
http://www.mitoaction.org/
Brighton has made it to his 2nd birthday, despite all the challenges that he has faced this year. So we are all gathering to celebrate and cheer.
Today several talented crafty friends have decided to jon me in this celebration!
If you came from
Mary's
then you are in the right place. If not please go back to the beginning at
Shawnee's
blog and be sure to see all the amazing projects.
We have some great sponsors for this hop they include:
A $20 GC to
KaDoodle Bug Designs
Like her fan page
HERE
(GC is for regular priced items, not sale prices)
A dust cover for a Silhouette Cameo from Wunder's Creations
Like her page
HERE
This adorable Mini Album Kit from
Honey Bearz Designs
Head on over to her fan page
HERE
An adorable Stamp Set from Mary at
CardzTV Stamps
Requirements to enter:
Leave a comment on each blog
Follow each sponsor on FB (if you don't do fb let us know)
Leave a comment on Shawnee's blog with your birthday wish for Brighton
My project is a special card for a special boy. I used Birthday Bash Cartridge to make the card.
Now you are onto your next party stop which is
Melissa
Thanks so much for joining us!